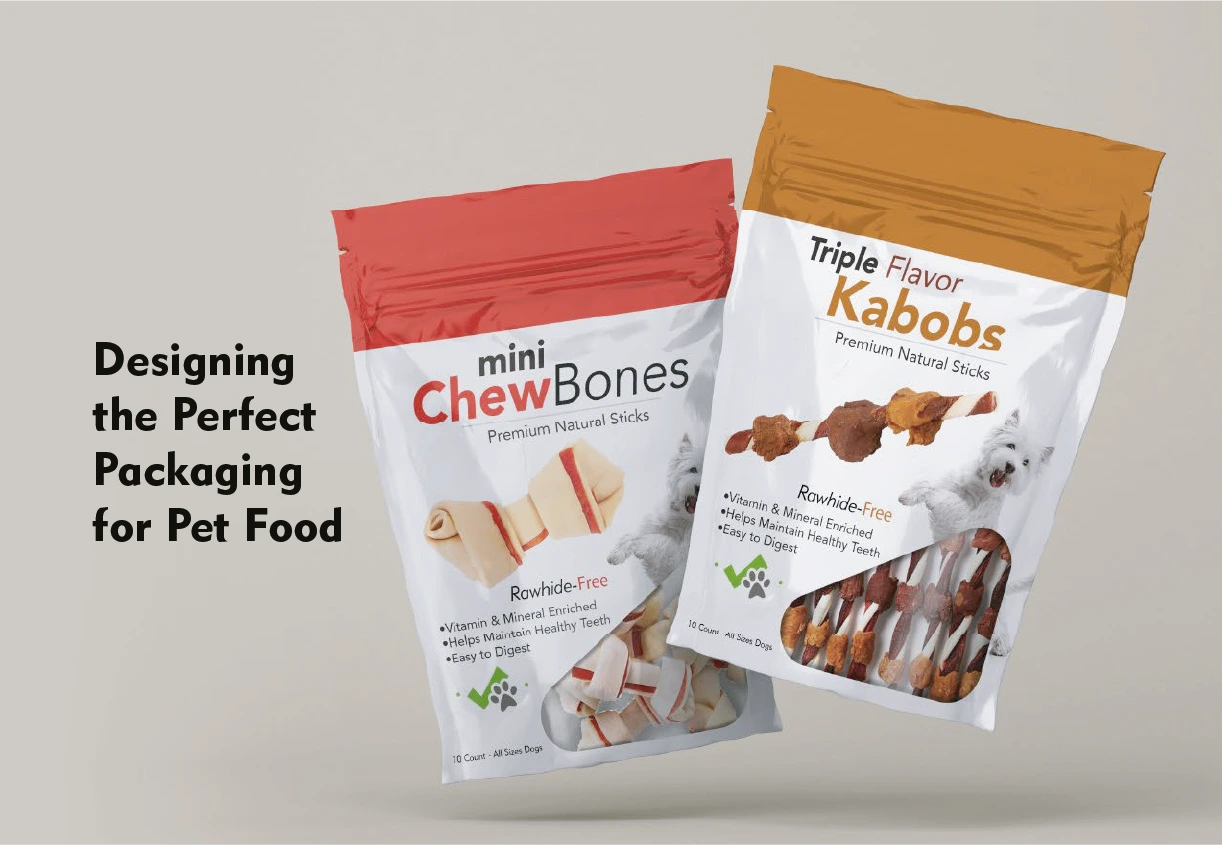 Packaging has come to hold a lot more value than merely showcasing your brand name and identity. It reflects your brand's personality and can either drive customers in or out. That holds true for all types of products, even packaging for pet food.
72% of American consumers say their purchasing decision is influenced by the packaging design. In another study, 67% of those surveyed said a product's packaging material often influences the purchase decision. Investing more into eye-catching graphics and attention-grabbing text can dramatically impact your bottom line.
Flexible packaging is a common option for pet food, but with multiple packaging options on the market, it can be daunting to determine which type is right for your brand. So, how do you choose? Get the step-by-step guide here.
1 – Explore Different Bag Style Packaging Options
You should be in the know of the trendiest bag style ruling the market right now and deliver it to the customers demanding them. Types of bag style options on the market include:
Need Guidance on Your Pet Food Packaging? Turn to the Packaging Experts!
Stand-Up Pouches
These bags are ideal for small volumes between one to eight pounds. Mostly used for pet treats, they are one of the most unique yet cost-effective bag styles on the market. With a high-quality appearance, they are easily customizable and quite affordable to produce.
Quad Seal Bags
A larger alternative to stand-up pouches, the quad seal bag is one of the most popular options for many pet food manufacturers. They are another cost-effective option that customers love. They can also be customized with a resealable feature that extends the shelf life of the products
and increases convenience.
Pinch-Bottom Bags
Pinch-bottom bags are ideal for larger-volume packages.
They have high tensile strength and can carry several pounds of pet food at once.
2. – Select a Suitable Packaging Material
Your packaging material can go a long way in protecting the integrity of your brand. Customers don't like products with flimsy packaging, so you'll want to make sure your product stands up to their expectations.
Common materials for pet food packaging include polyethylene terephthalate (PET), oriented polypropylene (OPP), biaxially oriented polypropylene (BOPP), nylon, and metallocene linear low-density polyethylene. You can also choose a more sustainable option with our Thrive™ line.
It can be difficult to discern which material you should use, especially if you haven't created custom packaging before. The experts at PPC can help you consider your graphic needs, what your product will be exposed to, and the functional needs of your packaging to get the best fit
3. Experiment With Different Types of Closures and Capabilities
Closures help you ensure the freshness of your product. A good closure can help preserve pet food and increase its shelf life. The type of closure you can use depends on the type of material and bag style you've chosen. Here
are some packaging closure style you can explore:
Press to Close Zipper
This closure is convenient and easy to use. Extremely economical, it can prolong your pet food's life, adding to a perfect balance of efficiency
and cost-effectiveness. Press to close zippers can make a bag reusable, are reclosable, and demand minimal effort.
Hook-to-Hook Closure
Another incredibly easy fastening method is a hook-to-hook
closure, which is reusable and reclosable. A one-squeeze fastening solution, it can create a secure seal for the pet food. It's a simple yet reliable method to complement your packaging experience.
Laser Score and Tear Notch
Laser scores and tear notches give your customers the ultimate convenience. They allow for clean and easy tears, which improves the customer experience and keeps them coming back for more.
Foldover and Glued Bottom
This closure offers better shape and shelf appearance, with an
additional panel for eye-catching graphics.
True Flat-Bottom A true flat-bottom offers a pouch with side gussets for carton-like presence and shelf stability.
Need Guidance on Your Pet Food Packaging? Turn to the Packaging Experts!
PPC Flexible Packaging is an industry leader in laminated and surface-printed rollstock, committed to purposeful, powerful packaging. We deliver powerful retail impact through integrity, shelf presence, and functional value-added features. PPC is vertically integrated to provide excellent quality in pre-made pouches and bags. We offer a wide selection of flexible packaging formats across various markets.
•Unparalleled quality, standards, and customer experience
•Superior printing capabilities, including unique coatings and textures
•Supply chain experts to drive innovative packaging solutions
•Competitive lead times to enhance speed-to-market
•Strong commitment to sustainability and reducing our carbon footprint
•Increase packaging value for your brand by switching to eco-friendly packaging solutions.
•Vertical integration to control all aspects of production
•A dedicated packaging consultation team
•Packaging manufactured in the US

Contact us for your flexible packaging needs today!