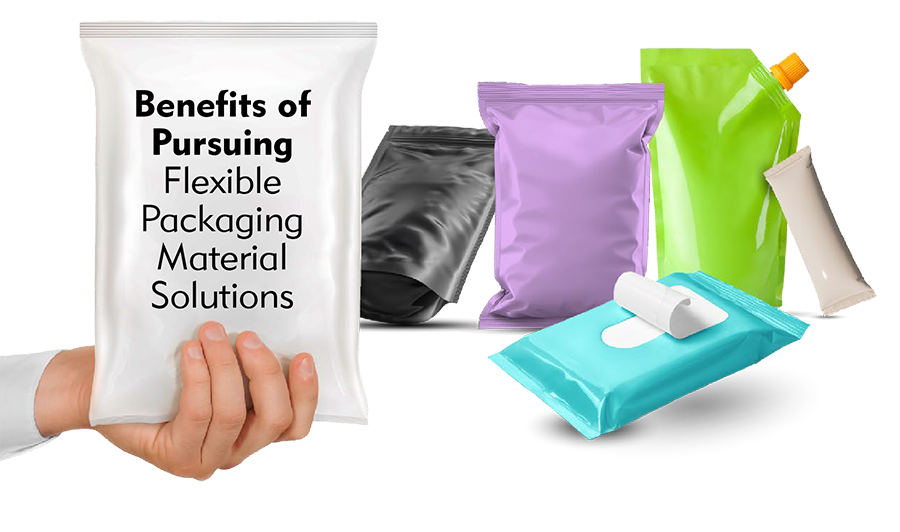 Not Sure Whether You Should Use Flexible Packaging Material Solutions?
When you need lightweight, strong, and durable packaging for your brand, flexible packaging material solutions are the way to go. These versatile packaging options are great for catching consumer attention, emphasizing sustainability, extending shelf life, and more. If you're not sure whether you should use flexible packaging for your business, we highlight all the benefits below. Let's dive in.
Advantages of Flexible Packaging Solutions
More consumers are reaching for products in sustainable packaging; many of them will even pay more for a product if they know it's been sustainably produced. Flexible packaging is a great sustainable material that can help draw more consumers to your brand and keep them coming back for more.
According to the Flexible Packaging Association, flexible packaging material solutions require less water and energy to manufacture and transport. They also generate only small amounts of greenhouse gasses on their way to market. Additionally, these packaging solutions are efficient in product to package ratios, which results in less consumer waste being sent to landfills.
Flexible packaging can be made with sustainable materials in mind, using items like 100% recyclable films and inks. They can also feature earth-friendly materials like kraft, stonewrap, and mineral paper. With rising consumer concern about the environment and governments pushing for companies to be more sustainable, flexible packaging could benefit your business in the long run.
Using flexible packaging material solutions is a great way to extend the shelf life of your product. This kind of packaging is great at resisting moisture, which protects against mold and mildew growth. It's also a great oxygen barrier, which further protects your product. Therefore, it's less likely that store personnel will have to yank your product off the shelf due to these issues.
Additionally, you can add resealable closure onto flexible packaging to further increase the life of your product. The longer your food stays fresh in a consumer's home, the more likely they will buy it again in the future.
Speaking of resealable closures, they also create a great deal of convenience for your customers. A recent survey found that 60% of respondents said they would be willing to pay more for resealable packaging that is easy to store and easy to open. As consumers are more on-the-go than ever before, offering this kind of packaging is something your brand can't ignore.
No matter what you're packaging — from food and beverages to cosmetics, and more — flexible packaging is a great solution. Also, you can create a wide variety of bag styles to suit your needs. Whether you need stand-up pouches, flat-bottom pouches, quad bags, or
another kind of design, flexible packaging can make it happen
Creates Eye-Catching Graphics
You already know that your packaging needs to stand out on retail shelves and online stores. In fact, 72% of American consumers say product packaging design influences their purchasing decisions.
With flexible packaging material solutions, you can ensure your product
catches the consumers' eye, every time. It's a great material to print upon, and produces bright, gleaming graphics, which draw new and repeat customers to your brand.
Flexible packaging is much lighter than other popular materials, like corrugated cardboard.
Using a lightweight material can help you save on shipping and logistics costs, and dramatically reduce your business' carbon footprint.
Flexible packaging can really be used to
package almost anything — even items that
need to remain sterile, like medical devices.
Sterilizable flexible packaging must be created in an ISO certified clean room, but is a cost-effective and efficient way to quickly ship products for the medical, healthcare, and life sciences fields
Flexible packaging is extremely cost-effective, which can dramatically impact your bottom line. You likely won't have to spend as much compared to choosing another kind of packaging material.
Disadvantages of Flexible Packaging
In order to help you make an informed decision about your packaging, we also have to discuss the disadvantages of flexible packaging. However, the list isn't very long.
The biggest consideration you need to make is whether flexible  packaging will adequately protect your product. Are you shipping something breakable or fragile? If so, flexible packaging probably won't be the best option for your business.
Additionally, extreme temperatures could affect the integrity of your packaging. It can be fairly easy to avoid these extreme temperatures during transit, but it is a consideration you must keep in mind.
Work with PPC Flexible Packaging for Your Flexible Packaging Material Solutions
Have you decided to use flexible packaging for your products? When you're looking for flexible packaging solutions, turn to PPC Flexible Packaging. We strive to exceed the expectations of our customers and suppliers by providing industry-leading service, quality, and innovation for the lowest cost possible. When you work with us, you'll gain access to unmatched experience, technology, resources, and expertise you need to design and manufacture the best packaging for your business.
Fantastic customer service and creating the best packaging solutions are at the heart of everything we do. That's why we maintain an ISO 9001 certification to hold us to the highest standards in manufacturing excellence. We also hold an SQF Level II certification and we are a GMI-certified print facility. We care about our customers and always strive to send the best products out of our manufacturing facilities.
Let's Make Something Great Together